Realtime-Trading goes Smartphone
BNP Paribas is the largest bank in Europe in terms of deposits and is among the 29 global high street banks classified by the Financial Stability Board of the G20 as a "Systemically Important Financial Institution". BNP Paribas is listed on the Euronext in Paris (CAC40) and the Tokyo Stock Exchange.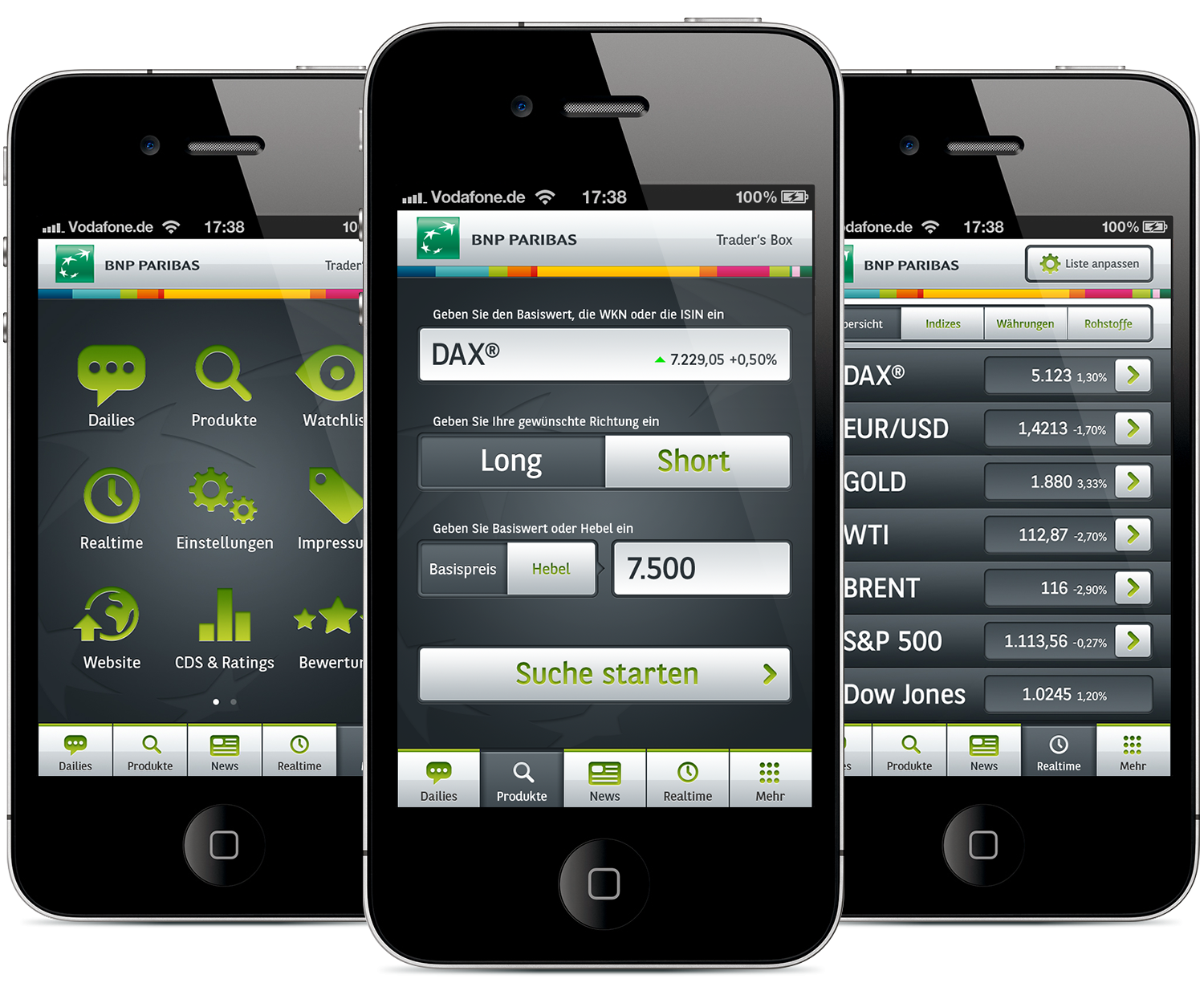 Speed is everything
The activities of BNP Paribas include the issue of derivatives – swaps, options and futures. Their prices are generally subject to large fluctuations due to the leverage effect. Rapid, up-to-date information is therefore vital for investors, particularly with around 80,000 derivatives changing hands each day – and that's just through BNP Paribas!
Our task was to bring derivatives trading to the smartphone, which posed a real challenge. More often than not the trader has the phone in one hand while also dealing with something else with the other (multi-tasking is a pre-requisite here). So, just one hand available to process information on 80,000 items and their basic values – as well as millions of share prices which can change several times within a few seconds but need to be immediately visible at a glance. This was a mind-bogglingly complex assignment.
Innovative search for derivatives
For the project we analysed numerous search functions for derivatives. The structure of search screens was identical almost everywhere – too confusing, too complex and thus totally unsuitable for a mobile version. Furthermore, almost every search request returned considerably more than one hundred hits. A completely new type of search was needed! A search that filters so effectively with one or two simple search terms that it offers the user just one product per derivative type, i.e. a maximum of four products.
Our solution: Whereas up to now all searches have focused on the "technical" aspects of the derivative, our search describes the position that the client wants to take with their derivative. In other words – client orientation. Is this a revolution in the banking sector? In terms of derivative trading, certainly!
Intelligent searching
When the client sees the search screen displayed, the criteria have already been filled out. It is coordinated to the user's previous interaction or (in the case of direct searching) displays the most frequently searched basic values. The position of the client (seller or buyer) and the closest basic value, based on current real-time market prices, have already been selected. This way, the client can confirm and carry out the search with a single tap or, if required, can adjust each of the three search criteria almost as quickly.
What's more, this adaptive searching not only suggests intelligent basic values but also calculates a recommendation for client target values. Based on this information, the most suitable product from each derivative type is determined so that the client receives a maximum of four product options. It is so easy. Once you know how it works!
Transparency with the Trader's Box
With the Trader's Box app all tradable basic values, all major indices, worldwide share values, currencies and commodities can be followed in real time – prices, changes, current reports, share price performances and much more.
For users, the app provides a daily video analysis of BNP Paribas on the DAX. Plus, in "Dailys" it examines shares, oil, precious metals, the American market and the changes in exchange rates each day.
In short: The "Trader's Box" app developed by us for BNP Paribas is a must for every smartphone user interested in the stock exchange.