Full service for all Internet systems
The Bundestag is the parliament of Germany – or to be precise, it is the legislative constitutional body of the Federal Republic of Germany – and is elected by its citizens every four years. The Bundestag elects the head of the government (Federal Chancellor), decides the federal budget and exercises control over the work of the government, the executive and the Federal Armed Forces. The German Bundestag has always selected us to manage its digital activities since 1993.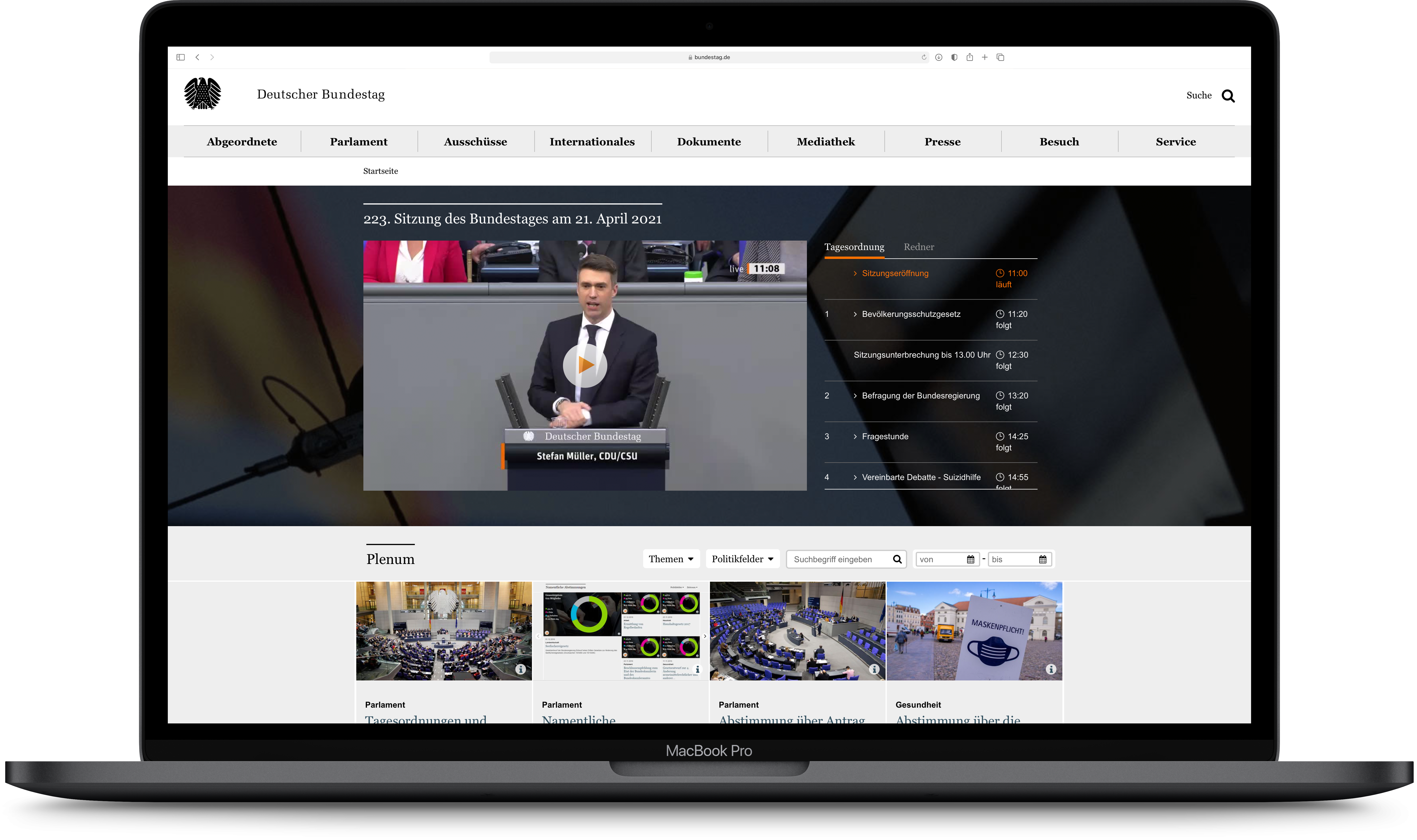 Digital full service
Starting in 1993 with the design and realisation of the website www.bundestag.de, we support the German Bundestag in many digital communication activities. We have realised for the parliament numerous multilingual websites for various target groups – such as the youth site www.mitmischen.de, the electronic weekly magazine www.das-parlament.de and the art project www.der-bevoelkerung.de
In the case of particularly challenging tasks, we also provide the Bundestag with editorial support. For example, we not only developed the bi-monthly multi-media Bundestag magazine, we are also responsible for the production of the individual editions. As part of this task, we have conducted video interviews with over 200 members of parliament and ministers and worked on the most diverse range of political topics to ensure interactivity and comprehensibility. Our big moment arrives when it comes to elections. After "Election Sunday", photos and biographies of all elected members of parliament need to be displayed on the parliament website by the first working day on the Monday.
Together with the Internet editorial team of the German Bundestag we are also constantly developing the digital formats of the parliament. We are at the forefront of all Bundestag activities, including live WebTV, media library, process solutions for legislative procedures, petitions processes and other participation opportunities, apps for smartphones and tablets.
Awards
Red Dot Award
German Design Award
Deutscher Preis für Onlinekommunikation
iF Communication Design
Digital Communication Award
World Summit Award mobile
Leistungen
Beratung
Konzeption
Realisierung
Betreuung der aktuellen Auftritte
Weiterentwicklung
Hosting
Current projects
The Web pages of the German Bundestag, particularly the homepage www.bundestag.de, change on an almost monthly basis. Whether it is an Arabic language version or a mobile website, media library or the information enhancement of live broadcasts from the Bundestag – we are constantly exploiting and developing new opportunities to secure the transparency of parliamentary events.
In our IT centre we operate the Bundestag content management system, databases, newsletter and all other systems available on the Internet. We also ensure that the apps we implement for the Bundestag for smartphones and tablets are always state of the art.
Our work for the German Bundestag has already won multiple national and international awards. We are proud of these achievements – but even more proud to be able to collaborate with such a wonderful client.